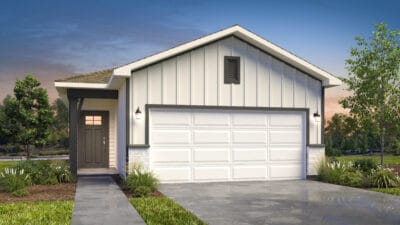 Plan Details
Step into the world of refined luxury with this captivating single-story masterpiece. Covering 1,247 sq. ft., every inch is a testament to thoughtful design, blending elegance and practicality seamlessly. The home boasts three serene bedrooms, ensuring a peaceful retreat for its inhabitants, complemented by two state-of-the-art bathrooms that exude modern sophistication.
Its spacious 2-car garage serves more than just your parking needs, hinting at the potential for customization based on your preferences. But the real jewel is the gourmet kitchen, a symphony of style with its lustrous granite countertops and high-end finishes. Equipped with the latest in smart home technology, this dwelling is primed for the future, offering an effortlessly integrated living experience.
The property's beauty is further accentuated by its meticulously designed landscaping, gracing both the front and backyard. This isn't merely a place to live — it's a statement of luxury, an immersive experience, and the realization of a dream.
Prices, plans, and terms are effective on the date of publication and subject to change without notice. Depictions of homes or other features are artist conceptions. Hardscape, landscape, and other items shown may be decorator suggestions that are not included in the purchase price and availability may vary.

Main Floor
Request More Information
"*" indicates required fields