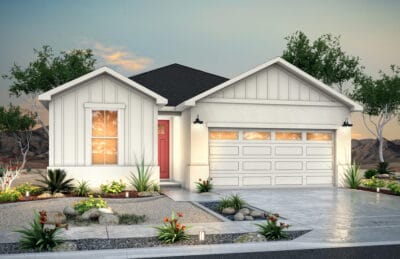 Community Overview
Welcome to the Campo Del Sol neighborhood featuring new houses for sale in north El Paso, TX. North El Paso offers the most breath taking views of the Franklin Mountains. This new home community boasts five all new floor plans with many thoughtfully planned elements plus 1,343-2,654 sq. ft., 3-4 bedrooms and 2-3.5 bathrooms. Campo Del Sol has convenient access to major highways like US54 and Loop 375, as well as public amenities such as parks, shopping, banking, entertainment and restaurant venues. Outdoor enthusiasts will enjoy close proximity to Jorge Montalvo/Shearman Park, Franklin Mountain State Park and Painted Dunes Desert Golf Course. Our north El Paso new homes feature lofts, pocket offices, morning kitchens, flex rooms, relax rooms and pet rooms. Stay tuned for several move-in ready options arriving soon.
Available Homes + Home Designs
Home Designs
Available Homes
Available Homes
No Results Found
Please edit your filter selection.
Dining
Golf & Country Clubs
Hours
Monday: 10:00am - 6:00pm
Tuesday: 10:00am - 6:00pm
Wednesday: 10:00am - 6:00pm
Thursday: 10:00am - 6:00pm
Friday: 2:00pm - 6:00pm
Saturday: 10:00am - 6:00pm
Sunday: 12:00pm - 6:00pm
Request More Information
"*" indicates required fields