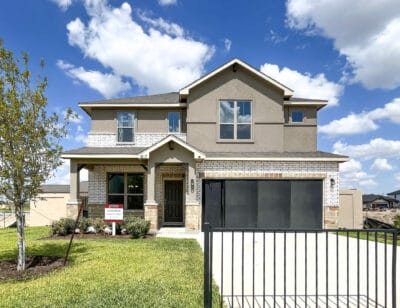 Community Overview
Explore the Puerta del Sol new homes for sale in Laredo, TX at San Isidro Ranch. This community features direct access from Loop 20 and U.S. 59 plus close proximity to Doctors Hospital and Independence Plaza with stores like H-E-B, TJ-Max, Petco and Ulta. The area schools are San Isidro Elementary School, Trautman Middle School and United High School. North Central Park and a fitness club are also in the area. Outdoor enthusiasts will also enjoy just a short drive to Lake Casa Blanca and its International State Park. Choose from our wonderful selection of single-family ranch and 2-story floor plans. All of our new homes at San Isidro in Laredo boast superior construction, stunning exteriors with siding and brick facades and your choice of lifestyle elevation plus a load of luxurious interior features.
Prices, plans, features, and options are subject to change without notice. All square footage and room dimensions are approximate and vary by elevation. Additional restrictions may apply. See Sales Representative for details.
Available Homes + Home Designs
Home Designs
Available Homes
Available Homes
No Results Found
Please edit your filter selection.
Dining
Shopping
Grocery Stores
Health & Wellness
Colleges & Universities
Hours
Monday: 10:00am - 7:00pm
Tuesday: 10:00am - 7:00pm
Wednesday: 10:00am - 7:00pm
Thursday: 10:00am - 7:00pm
Friday: 10:00am - 7:00pm
Saturday: 10:00am - 7:00pm
Sunday: 12:00pm - 7:00pm
Request More Information
"*" indicates required fields