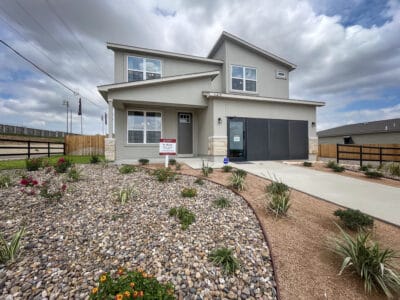 Community Overview
Come explore the Villas San Agustin community featuring new homes in Laredo, TX. Located in the northwest part of the city in one of the most desired areas, it provides access from Mines Road and from Loop 20. It is in close proximity to the World Trade Bridge plus near a shopping center, grocery store and hospital. Recreationalists will enjoy the convenience of the Manadas Creek Lake, Rio Grande River and Father Charles M. McNaboe Park. The area schools are Fasken Elementary School, Washington Middle School and United High School. Our new homes for sale at Villas San Agustin feature all-brick or partial-brick facades and luxurious interiors. These single-family floor plans offer a variety of elevations with 3 -4 bedrooms and 1,722-2,562 sq. ft. from the mid-$300s.
Available Homes + Home Designs
Home Designs
Available Homes
Available Homes
No Results Found
Please edit your filter selection.
Dining
Shopping
Grocery Stores
Recreation
Colleges & Universities
Hours
Monday: 10:00am - 7:00pm
Tuesday: 10:00am - 7:00pm
Wednesday: 10:00am - 7:00pm
Thursday: 10:00am - 7:00pm
Friday: 10:00am - 7:00pm
Saturday: 10:00am - 7:30pm
Sunday: 11:00am - 6:00pm
Request More Information
"*" indicates required fields