With Halloween drawing ever closer, it's time to make sure our cuisine matches the rest of our spooky household! Whether you're throwing a Halloween party, looking for fun snacks for the kids or just want to indulge in some creepy culinary creations, we've got you covered! In this blog we'll share five easy recipes to create the perfect spooky treats to dazzle and scare those taste buds right off your tongue.
Mummy Dogs
Transform ordinary hot dogs into adorable mummy-shaped treats that will surely be a hit with kids and adults alike! All you need are hot dogs, crescent roll dough and your choice of mustard or ketchup for the eyes!
Preheat your oven according to the crescent roll package instructions.
Take a hot dog and and wrap the strips of crescent roll dough around the hot dog, leaving a small gap near the top for the "eyes."
Bake into the oven as per the crescent roll instructions, or until the dough turns golden brown.
Once out of the oven, add two small dots of mustard or ketchup for the mummies eyes and voila!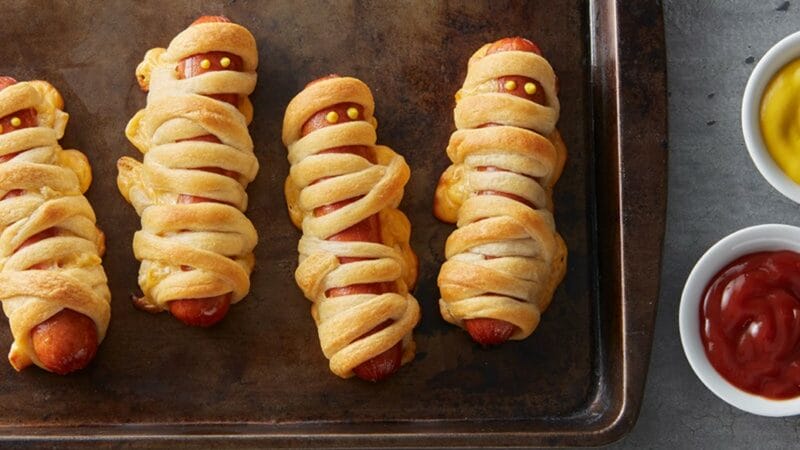 Monster Eyeball Cookies
A delicious and spooky treat that might just watch you while you eat it! Combine sugar cookies with dye and candy eyeballs for a real gooey-eyed spooktacular snack for adults and children tonight. All you will need is sugar cookies, either pre made or homemade, royal icing and some candy eyeballs!
Start by baking your cookies and allow them to cool completely.
Prepare the royal icing and frost the cookies to your desired level.
While the icing is still wet, place a candy eyeball in the center of each cookie, or two if you are feeling adventurous!
Allow the icing to set so that the eye or eyes harden into place.
Serve and enjoy!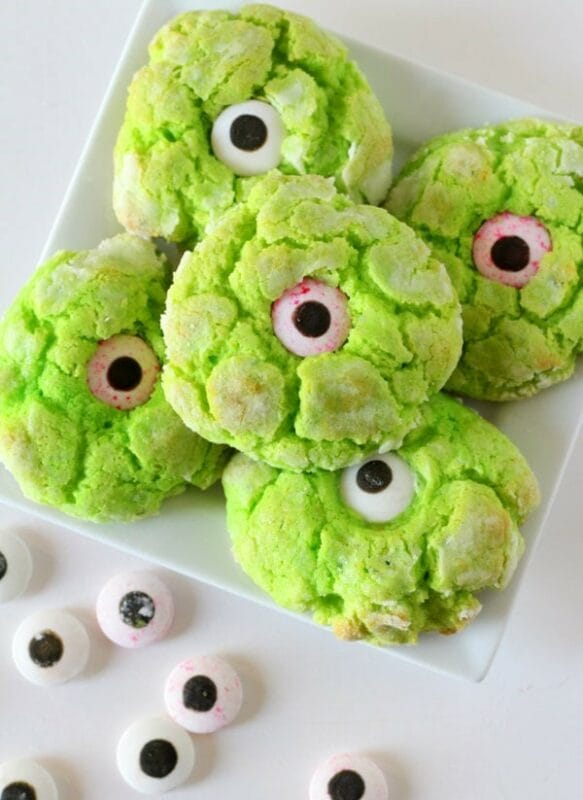 Witch's Brew Punch
Quench your thirst amidst all these treats with a  bubbling cauldron of Witch's Brew! A spooky, non-alcoholic beverage for the whole family that might just cast a spell on you. All you need is some lime sherbet, lemon-lime soda or ginger ale of your choice, pineapple juice, and of course some gummy worms and spiders as garnish!
In a large punch bowl, add scoops of lime sherbet.
Pour in your lemon-lime soda or ginger ale until the sherbet begins to foam and bubble.
Add the pineapple juice to taste.
Drop in some gummy worms and spiders for that extra eerie touch then serve in cups or cauldron-shaped containers with a ladle and enjoy!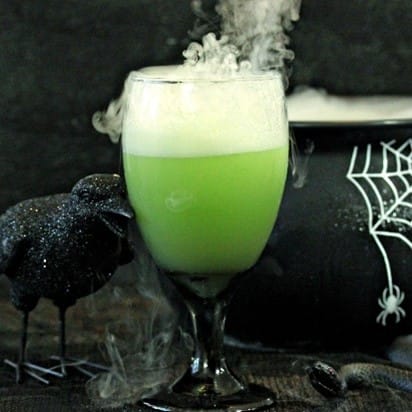 Spider Deviled Eggs
A classic party dish is always a hit, but why not step up the spook factor by turning Deviled Eggs into a creepy-crawly delight with these spiderweb deviled eggs! You'll need some hard-boiled eggs, mayonnaise, Dijon mustard, paprika, and black olivers for the spiders (or your chosen substitute).
Start by cutting the hard-boiled eggs in half and remove the yolks.
Mix the yolks with mayonnaise, Dijon mustard and a pinch of paprika until smooth.
Spoon the yolk mixture back into the egg whites.
Slice bits of an olive into thin pieces to create the legs of the spider and a whole olive in the middle as the spider's body.
For even more fun, you can add color dye or other means to create spiderweb like designs on the whites of the eggs for an even creepier effect!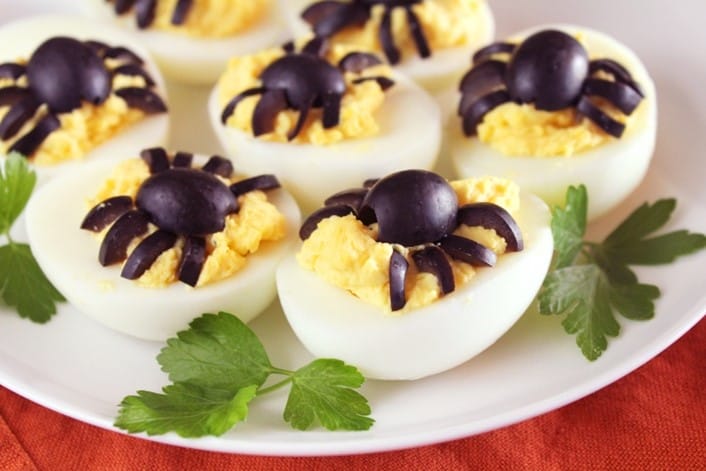 Candy Corn Rice Krispies Treats
Another classic favorite, the rice krispie can go a long way. What's even better is its not hard to add a little Halloween pizazz to your treats by making them into the shape of candy corns! Simply grab yourself a box of Rice Krispies cereal, marshmallows, butter and of course, yellow and orange food coloring.
Start by preparing the Rice Krispies treats by melting the butter and marshmallows in a large saucepan.
Separate the mixture into three portions.
Dye one portion yellow and the other portion orange, leaving the last one white.
Press each colored mixture into a greased pan, creating layers. You will want yellow on the bottom, orange in the middle and white as the top.
Once set, cut into candy corn shaped triangles and serve!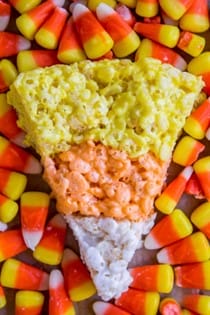 These five easy and spoopy treats will add a ghoulishly good touch to any Halloween celebration you throw. From mummy dogs to candy corn Krispies, there's something to satisfy every ghost and ghoul that drops by! So go ahead and put on your costume, dim those lights, set the mood and get ready to indulge in some deliciously eerie delights. Happy Halloween every-ghoulie!